Printable Fallen Phrases for Kids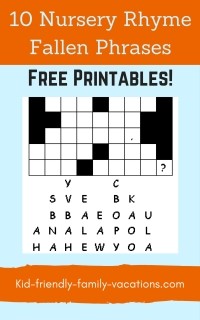 Make the most of "Getting There" with these free printable fallen phrases puzzles!
10 Nursery Rhyme Fallen Phrases for kids

Print the puzzles as many times as you like to share

Make travel time go by quickly!
Sign up for our newsletter for free guides, free books, updates, book release updates and much more.
We never spam and we never pass your email address.  You can opt out at any time.  Read our privacy policy.