Kings Cross London – Things To Do
If you do not live in London, you probably heard the King's Cross after watching the first Harry Potter film. In the film, the characters had to travel to Hogwarts by train.  That train is a part of the popular King's Cross railway (well, behind the scenes anyway).   Kings Cross is an area in the middle of London.  Kings Cross belongs to two boroughs; Camden and Islington.
Earlier, the Kings Cross London area was notoriously known as a red light district. However; in mid 1990s, it started to gain a good reputation with the development of major railways. Also, the construction of establishments like restaurants, hotels, and cultural venues help the area. If you want to go to nearby countries like France or Belgium, you can take a train in London St. Pancras Railway which is located in Kings Cross London.
If you are planning to visit Kings Cross, here is a list of things that you can do.
Kings Cross Station – Platform 9 3/4
For Harry Potter fans out there, you can have your picture taken at the famous platform 9 ¾.  This is where Harry took his first travel to the magical world of Hogwarts. They even buried a luggage trolley in the wall to make it look as if a Hogwarts' student has just stepped through the invisible platform door.   (read reviews)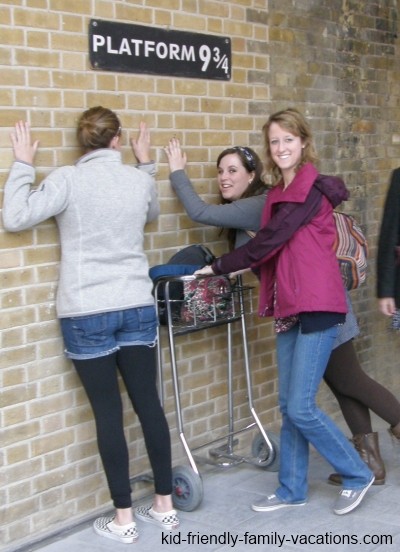 Shaw Theater
If you are interested in English literature, then you are probably familiar with George Bernard Shaw. He was a famous novelist, critic, and playwright. You can visit the Shaw Theater, named after Bernard Shaw, located near the St. Pancras terminal in Kings Cross. This theater is famous for regional theater productions and plays organized by independent New York producers. Famous people who performed in this theater include Sir Andres Lloyd Webber, Boy George, Dionne Warwick, and Van Morrison, to name a few.
London Canal Museum
If you prefer to visit museums, you can always go to the London Canal Museum. This museum shows exhibitions that tell the story of man-made canals and waterways. You will discover how the canals were constructed, how the people lived in these waterways, and other relevant information about the canal. There is a narrow boat cabin which you can enter to listen to the story about the people living on boats in the waterways. (read reviews)
British Library
Located next to the St. Pancras terminal, the British Library is also a must-visit in Kings Cross London,  Especially to those people who love history. The library houses some of the oldest and rarest documents in the world such as the 'Magna Carta' and original manuscripts of famous writers and scientists. The library also has the rarest collection of classical stamps, which will surely put stamp collectors in awe. (read reviews)