New York City Travel With Kids
New York City travel with kids isn't something that you should be afraid of…
One of our best family vacations (several in fact) was a trip to New York City.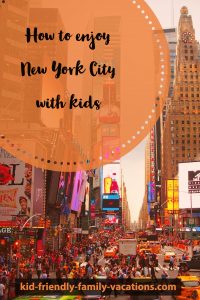 Believe it or not, YES – you can add New York City to the list of family vacation destinations that are kid friendly….. we have, and we hope you will enjoy the tips we provide here…
Our family visited New York City in the summer one year when the kids were young.  It was hot, and we walked and walked and walked…. you get the picture… but we had a great time. Most New York City attractions are accessible via walking, or subway. We tried our hand on the subway after our first day in the city, and again were pleasantly surprised at the ease of getting around the town via the New York City subway… great way to handle New York City travel with kids.
Other times that we have visited were in March of one year – the temperature was in the high thirty's that visit – bearable, but cool…. No matter the time of year though, New York City with children is a fascinating family vacation….
So…. Here's what you will find on this page…. We hope you will enjoy, and plan a vacation to New York City with children real soon….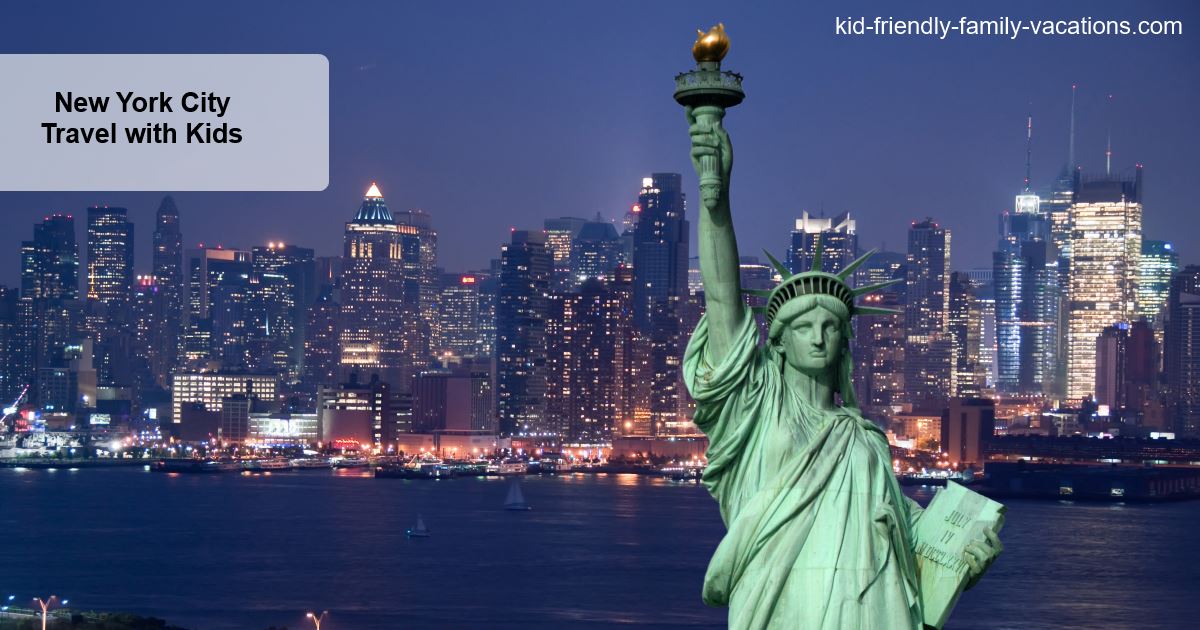 New York City Travel with Kids – The NYC Attractions you will enjoy
During our several trips to New York City with children, we have had the opportunity to visit some great places…..
Times Square
Times Square was amazing.  We visited it in daylight and dark.  It was crowded beyond belief, and hard to move around in, but it was amazing!  One of our daughters has decided that she wants to live in NYC after seeing Times Square (that was when she was 12… she has decided against it now, but loves to visit!).  Times Square houses the Theater District in NYC.  Be sure to take in a Broadway Show.  The best way to travel to Times Square while in New York City with children is the Subway hands down.  We took the subway each and every day during our visit [Read More Reviews]
The Statue of Liberty
The Statue of Liberty was one of our favorite attractions.  There were great views of New York from the Ferry, and the statue was great to see.  We took an opportunity to have a family vacation photograph made by the park rangers of our family with the statue in the background!!! [Read More Reviews]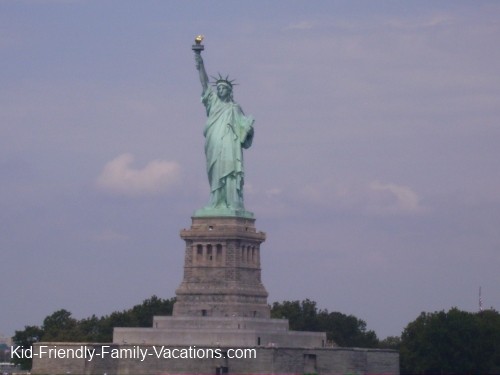 The Brooklyn Bridge
We really enjoyed our walk on the Brooklyn Bridge.  The bridge is an icon in Brooklyn, New York, and is the number one attraction there.  The bridge starts in the lower Manhattan area of New York, and is absolutely majestic.  You and your family can walk or bike along the bridge…. you will see great views of the city from the bridge. [Read More Reviews]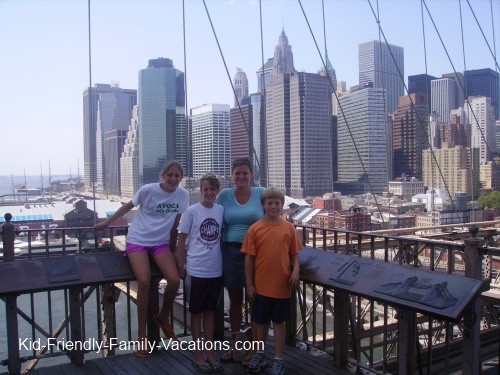 Central Park
Another great spot to visit is Central Park.  Central Park is accessible on the subway lines, and great to visit.   Central is also in easy walking distance from the Times Square Area.  The subway stop allow your family to walk around and take in the "local flair" of New York City. [Read More Reviews]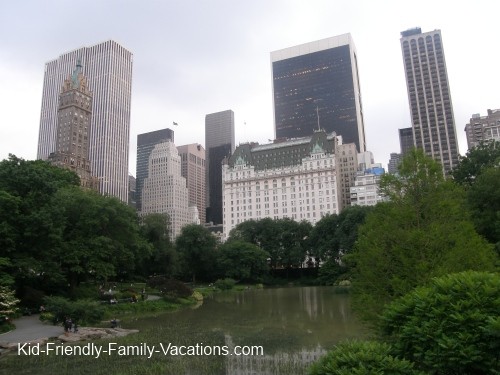 The Empire State Building
Atop the Empire State Building is a great way to see the city… The building stands a quarter-mile high, and is one of the most popular vacation destinations in NYC.  Nearly 3.5 million people visit this great building every year! [Read More Reviews]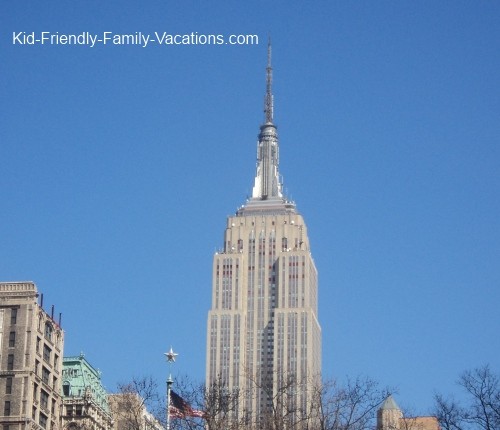 The Carnegie Deli
Carnegie is located at 854 Seventh Ave., between 54th and 55th Streets, Manhattan, New York City… and it has some of the biggest sandwiches that I have ever seen in my life… in addition to the best cheesecake that I found anywhere… The Deli is very close to Central Park and is easy walking distance from the Times Square area for a great snack after a play! Whether you are planning New York City travel with kids or not, you should check out this deli! [Read More Reviews]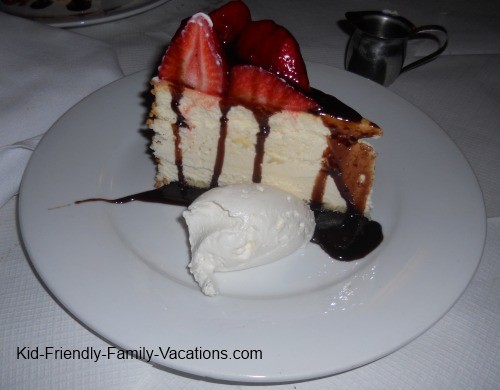 Coney Island
Coney Island is located in the NYC borough of Brooklyn – a 45 minute subway ride from mid-town Manhattan… well worth the day trip to see… It is a unique place – you can get a hot dog, and swim in the Atlantic Ocean – then take a ride on the famous "Cyclone" Roller Coaster! [Read More Reviews]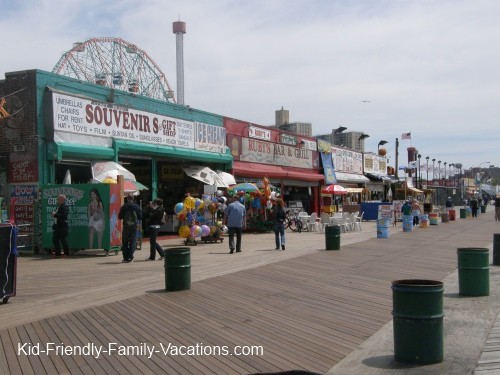 Baseball – The Mets and The Yankees
Believe it or not, Major league baseball is a very affordable thing to do with your family… and it is a great atmosphere!  While in New York City, we took in a Mets  and  Yankees game…. very much fun, and excitement…. Don't count this out!
The NBC Studio Tour
One afternoon while milling around downtown, we took in the NBC Studio Tour. It was a great tour, and included some great trivia and history of NBC.  I highly recommend taking in this tour.
As you can see from the list above, we were very busy all day long for the entirety of all of our visits to New York City.  The children held up real well, and just loved the tall buildings, the sites, the street vendors (it was so hot when we visited, that I felt like we were buying water at every other corner), and souvenir stands on every corner.
Our number one recommendation for New York City with Children is to choose activities and places to visit that are friendly to children and adults, see a variety of things just to add to the children's "Life Experiences", and have a really good time on this family vacation.
Travel to New York City
We took the train from Lancaster, Pennsylvania on our first trip into New York City with children!  I've said it before, but traveling into the city by train is one of the most pleasant forms of travel around!
On our second trip into NYC, we arrived in New York City via Amtrak Train from Harrisburg, Pennsylvania.  The train trip was about 4 hours from there, but it goes straight into Penn Station in mid-town Manhattan…. great way to start the family vacation.
*********
As a side-note… traveling into a big city by train is THE WAY TO GO…. especially with children. We have traveled by train into Chicago and New York City, and will definitely do it again.
*********
On yet another vacation to New York City with children, we traveled by car to Newark, NJ and spent the night there… we then took the NJ transit trains into Penn Station… this was yet another great way to travel…. on time and efficient.
Where we stayed
During our visits to NYC, we have stayed in different areas.  The first visit there, we opted to stay in the Financial District area.  The hotels are newer, have larger rooms, and are a little less expensive… but there are prices you pay for these conveniences….  if we returned late, there was no place open to grab a bite to eat….  Not a problem in Times Square… You can get a sandwich at 3:00 AM if you want to…. and there is always something going on!  On subsequent trips to NYC, we have opted to stay in the Times Square / Central Park area, and have been extremely pleased!
During our first visit, we stayed at the  Embassy Suites in the Financial District.  After arriving at our hotel, we set out to plan our activities for the three-day whirlwind visit to New York City with Children.  The hotel was large, and everything that you would expect from an Embassy Suites Hotel!
One of the other hotels that we stayed at was the Wellington – close to Central Park… The hotel is reviewed in the section below…
New York City Reviews
A list of all Attractions for  New York City with Children ranked by popularity based on visitor reviews
Our Favorites
The NBC Studio Tour – well worth the trip and tour.
The Statue of Liberty – one of the big New York City Attractions – a real piece of American History.
Walking on the Brooklyn Bridge – a fun free thing to do.
Central Park