St Pauls Cathedral London – The Landmark Dome in Downtown London
St Pauls Cathedral London has been around for over three hundred years. It was the tallest building in London from 1710 to 1962. In the UK, only Liverpool Church beats out St. Paul's for size.
In terms of important funerals, there's been Lord Horatio Nelson, the Duke of Wellington, and Winston Churchill.  Two queens' jubilees and the wedding of Prince Charles and Princess Diana were held at the Cathedral.
On top of all that, it's a working church. Prayers and services go on regularly.
History – The Burnt Church
This whole business of size and notability started after the Great Fire of London in 1666.  The old St Paul's Cathedral burned down during that fire. The current Cathedral was built on top of the ruins.
On the 30th of July 1669, Sir Christopher Wren was hired to design the replacement cathedral. Wren had designed f fifty other churches in London.  Construction began in June of 1675, and the structure was ready to use by the 2nd of December 1697.  The cathedral was consecrated in 1708, and was officially complete on Christmas Day of 1711.
As with all things, the new cathedral attracted reactions of all kinds from love to hate to indifference following curiosity. In all, though, the end result was impressive, seeing as London's weak clay scoffed at large buildings.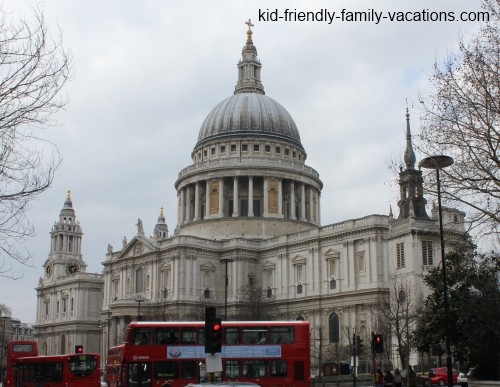 Not much happened to the Cathedral until the Second World War. The Blitz was not kind to St Paul's, but it fared well compared to the rest of London.  The famous photograph was taken on the 29th of December 1940, from the roof of the Daily Mail in Tudor Street.
Sir Winston Churchill insisted that every fire-fighter help to save St Pauls Cathedral London, standing proudly as it did over the rest of London. Damage to the cathedral, Winston thought, would sap the morale of the country.
You can read more about St Pauls Cathedral London on TripAdvisor.