Statue of Liberty National Monument New York City – A Gift of Friendship from France
I guess that all tourists do the Statue of Liberty Tour, so there we were – with the best of them.  But you have to admit that it sure is beautiful… isn't it?
Since we were staying in the Downtown section of New York City on this family trip, we were fairly close to Battery Park.  We set out from our hotel after breakfast and walked to Battery Park to board the ferry to The Statue.  A map of the Ferry Route to the Statue is available from the National Park Service.
We chose not to tour the interior of the statue on this family vacations stop, but a limited number of time passes are available at no cost daily on a first-come first-served basis from the Ferry Company to tour the statue.  Time Passes are also available at no cost online through www.statuereservations.com or by calling 1-800-STATUE4.  Advance tickets must be ordered 48 hours in advance.
Statue Of Liberty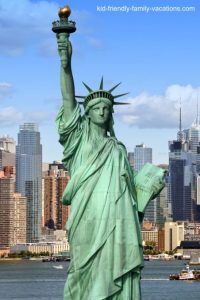 The first stop form New York City Battery on the Ferry is Liberty Island.  While on Liberty Island, you are free to move around the statue, and the statue museum. The views of the city are wonderful from Liberty Island.  While on the island, we had our group photo made by the National Park Service photographers.  The view of the statue in the background is great – a great low-cost souvenir of your family vacations stop in New York City.
The Statue is a part of the New York City Explorer Pass…
Ellis Island
Ellis Island is part of the Statue Of Liberty tour, and is the second stop on the Ferry from New York City Battery Park.  The Ellis Island Immigration Museum exhibit is a great tour.  The museum exhibits chronicle Ellis Island's role in immigration history.  For more information on the Immigration Museum, visit The Statue of Liberty-Ellis Island Foundation page on Ellis Island.  Be sure to spend some time at the Immigration Museum while visiting The Statue.
Ellis Island information and reviews
Our Tips
Take time to walk around the park area, and take some pictures.  The view of New York City is beautiful from Liberty Island.
Take advantage of the Park Service photography service to have your group's photo taken in front of the Statue.  They get the shot at a perfect angle to show you and the statue…. good family vacations souvenir.
If you are visiting on a particularly crowded day, consider visiting the

Statue of Liberty

from New Jersey.  We noticed that while we waited through three boat loads to ferry back to New York, that the New Jersey Ferry had no waiting at all.
If you want to tour the Statue, be sure to get to the Ferry Landing extra early in order to get the free tickets for the tour, or order online at statuereservations.com.