The Arc de Triomphe Paris – A National Historic Symbol of Paris France
Paris France Virtual Field Trip Week 4
Free Paris France Vacation coloring page: Arc de Triomphe coloring page
Without a doubt, the Arc de Triomphe Paris is one of it's most famous attractions. It stands at the western-most point of the Avenue des Champs Élysées.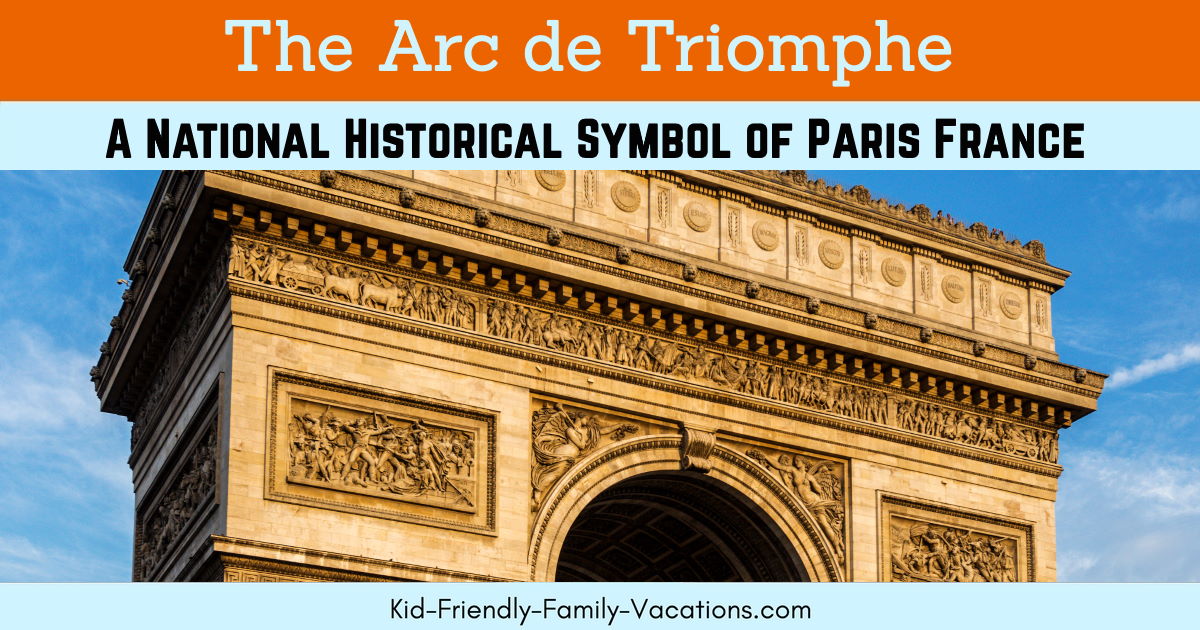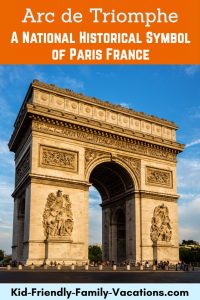 Arc de Triomphe –  Commissioned by Napoleon Bonaparte
The arc was commissioned by one of France's most noteworthy historical figures, Napoleon Bonaparte. Sadly, Napoleon Bonaparte would never get to see the completed monument since it was finished fifteen years after his death.
Napoleon commissioned the construction of the arc in commemoration of the people who died fighting for France during the Napoleonic and French Revolutionary Wars. The outer and inner surfaces of the arch are inscribed with the names of the generals and all the major French victories.
Plane once flew right through the Arc de Triomphe
The Arc de Triomphe Paris is one of the widest arches in existence. To commemorate the end of World War I, Charles Godefroy flew a biplane through the arc's main vault. It was even captured on a newsreel. A video of the event can be found on the internet.
One of the tallest of its kind in the world
At the time of its completion, the Arc de Triomphe was noted as the tallest arch in the world. It stood at a height of fifty meters, or 164 feet. It would be surpassed about a hundred years later in Mexico by the Monumento a la Revolución,
which stands at a height of sixty-seven meters, or 220 feet.
The Arc de Triomphe Paris could have been an elephant
Before being dedicated as a site for the Arc de Triomphe, this location was almost dedicated to a gigantic elephant. Charles Ribart, a French architect, proposed that a giant three-story building in the shape of an elephant be erected at the site where the Arc de Triomphe stands today.
The Tomb of the Unknown Soldier
A tomb was built under the Arc de Triomphe. An eternal flame was then lit in honor of those who had died during the war. The tomb was visited by John and Jackie Kennedy. Inspired by the eternal flame, Jackie Kennedy had a similar one lit after US President John F. Kennedy was assassinated.
How to Get to the Arch de Triomphe Paris
The Arc de Triomphe is located on the Avenue des Champs Élysées.
Metro (subway) : lines 1, 2, 6 , or RER A and getting off at the Charles-de-Gaulle-Etoile station.
Website : https://www.paris-arc-de-triomphe.fr
Webcam : https://worldcam.eu/webcams/europe/france/17417-paris-arc-de-triomphe
Reviews
Arc de Triomphe Reviews on TripAdvisor.
Paris France Virtual Field Trip Recap
Week 1 – Things to do in Paris with kids
Week 2 – The Parisian Catacombs
Week 3 – The Eiffel Tower
Week 4 – Arc de Triomphe Paris
For updates on all new Virtual Field Trips, join our updates list by using the box at the bottom of the page (Click on Free Download of Top Attractions for Kids in London – or click through here)