Are you looking for Things to do in Paris France vacations with your kids? If so, take note of the sites and landmarks your family shouldn't miss! Paris has so many world-famous attractions, you can easily get overwhelmed by all the places you'll want to visit. Here are some attractions in Paris that you and your kids / grand-kids will not want to miss!
The Louvre Museum
Smile now…you'll see Leonardo da Vinci's legendary Mona Lisa painting in the flesh! A central Parisian landmark on Seine's Right Bank, the Musée du Louvre (The Louvre Museum) is home to France's most celebrated and influential artworks, including Madonna of the Rocks, Death of the Virgin, The Fortune Teller, and Virgin and Child with St. Anne.
In addition to this famed Renaissance collection, The Louvre also houses over 35,000 prestigious art pieces from a variety of civilizations, from the Greeks and Etruscans, to the Egyptians and Near Eastern antiquities, to the Roman and Islamic arts. The epic art collections this most visited museum boasts of would surely be worth a priority place in your family's itinerary! (read reviews)
Even if you do not get a chance to visit the museum, the park in front of he museum is a great place to enjoy a light lunch or a snack.  Locals crowd the area at lunch time on week days, and there is always a bustle of activity.
The Eiffel Tower
Sure, you'll get to see this tower's peak from wherever you are in the city, but your Paris vacation won't be complete without an actual site visit to this emblematic structure! Standing on Champ de Mars, this iron lattice tower has become symbolic of the city since its construction in 1889, and is recognized as the world's most visited paid monument.
The Eiffel Tower, named after the illustrious engineer Gustave Eiffel, has 3 levels and 9 elevators. Each of its first two levels can be reached via 300-step stairs, while its third level can only be reached by lift as the stairs to this highest level are typically not opened for public use. Its first two levels feature exquisite restaurants including the famous Le Jules Verne, while its third level offers a viewing platform like no other.  (read reviews)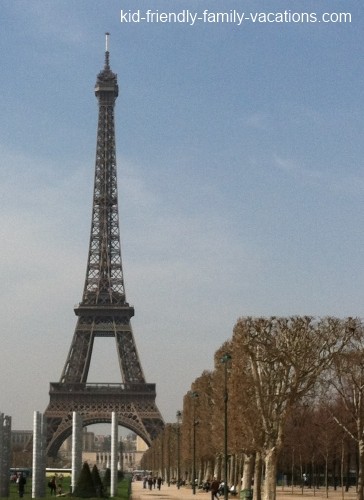 Notre Dame Cathedral
Also called the Notre Dame de Paris (Our Lady of Paris), this historical Roman Catholic cathedral is one of the most famous of all churches ever built. Resting on the eastern part of Paris' natural island Île de la Citéin, it houses the official chair of the city's Archbishop. It stands not only as one of the best exemplars of French Gothic architecture, it is also home to a distinguished collection of significant treasures including the Crown of Thorns by Viollet-le-Duc, the painting Saint Thomas d' Aquin, and first-class relics such as one of the Holy Nails and a portion of the True Cross.
A visit to this legendary church will surely take your family to an enriching experience of ancient Roman architecture contrasted with naturalist sculptures and stained glass windows. (read reviews)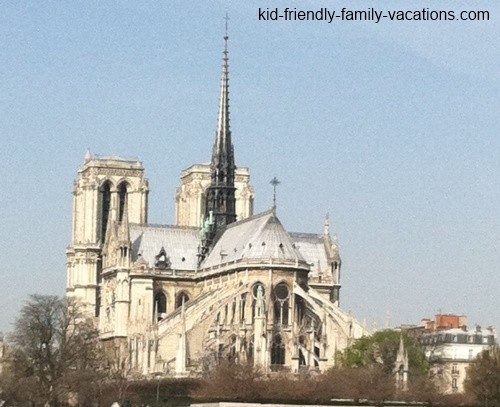 Paris Bike Tour
If you are visiting Paris with older kids / teenagers / college age kids, then we highly recommend a Paris Bike Tour.
This is a great way to get a taste of the city.  You will see some places that only the locals know about and hear some great history.
If you are in Paris for only a short amount of time, then this is a great way to quickly get a feel for the city.  If you are there for a while, you will get a quick tour and have a better idea of other places you will want to visit later.  It is a win-win for everyone.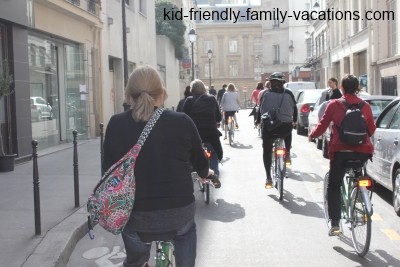 Take a bike tour – a great way to see the city – We recommend Bike-About-Tours (read our review) (read reviews)
Other Places to Visit in Paris
The Arc de Triomphe (read reviews)
The Champs-Elysees  (read reviews)
Here is  a list of attractions in Paris ranked and reviewed by others on TripAdvisor…. read more.
Tell us about your Paris France Vacations
We would love to hear your thoughts and comments on your visit to Paris…. Join the conversation in the comments below….
So make the most of your Paris France vacations by making sure these destinations are in your family's itinerary. These are among the best attractions in the world! ….. take a look here to see how we planned this European Vacation!