The Battery Charleston (and Park) in  Charleston SC, also known as "White Point Gardens" is a peaceful park offering views of Fort Sumter and the Charleston Harbor.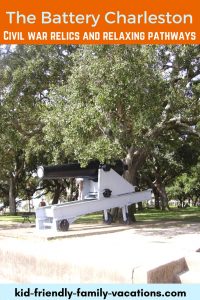 The other side of the park offers views of some the magnificent mansions. Battery Charleston Park displays weapons and cannons used in the Civil War which the children are welcome to play on and around.  You'll see a Columbiad used to shell Fort Sumter in 1861, two seacoast mortars, and more….
The park is adorned with massive oak trees which provide ample shade.  A large white gazebo stands in the center of the park, and is often used for weddings.  The park makes a great place to take a break during your downtown tour.
White Point Gardens is surrounded by "The Battery".  The Battery is a wall that holds the Atlantic Ocean away from the peninsula that is Charleston SC.  The battery provides a great place for a stroll around the tip of the peninsula of Charleston offering a view of the city and of the harbor.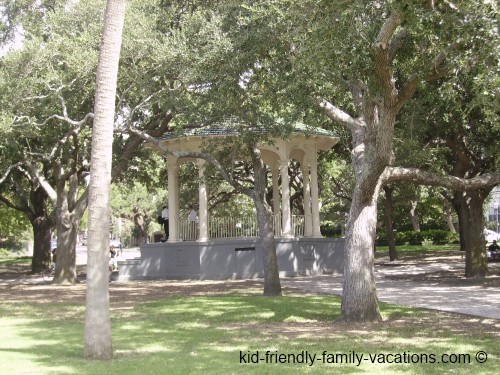 When I was a child living in Charleston, a Sunday afternoon trip to the battery was a great way to spend the day.  My sister, mother and I used to walk around the battery and spend time in the Park. It is a great place to rest your feet while on visiting the city.

Civil War Memorial
White Point Gardens and The Battery is a living monument to the Civil War.  There are cannons on the edges of the park.  There, you will find children of all ages climbing and posing for pictures.  The cannons in the park are replicas of those used to defend Charleston during the war.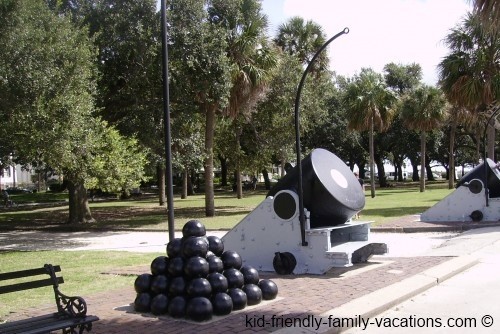 During the summer and early fall, Battery Park is one of the coolest places in the downtown area….. be sure to visit there, and take a short break.