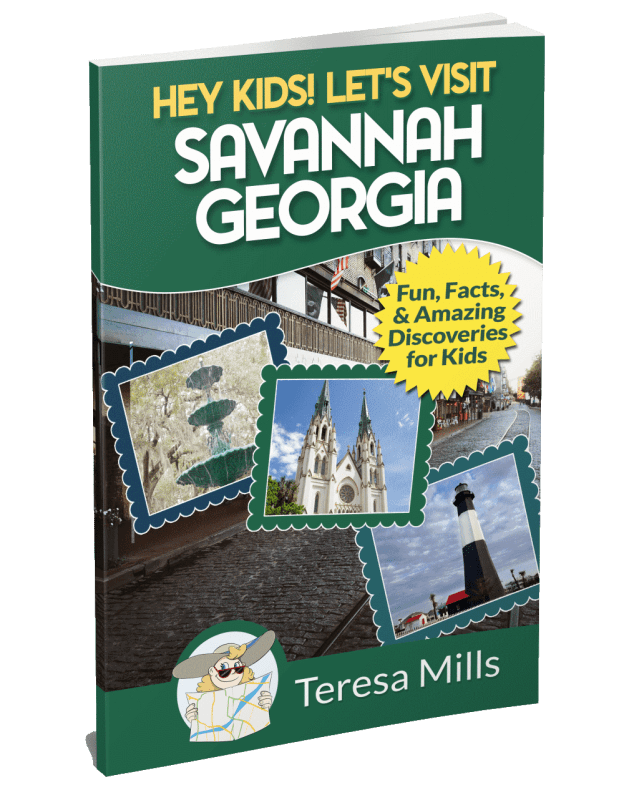 Learn all about Savannah Georgia before you visit and while you are there
Hey Kids! Let's Visit Savannah Georgia leads kids on a virtual tour of some major fun things to do in Savannah and includes some fun and interesting facts about each one. Kids who are visiting Savannah can use the book as a reference when touring the city, or use it to learn more about Savannah.
Order Now!
About the Book
Fun and Exciting Facts about Savannah Georgia!
Hey Kids! Did you know…
•The founder of the modern day girl scouts is form Savannah?
•There's a cemetery in downtown Savannah that is home to a very famous ghost?
•There's an island close to Savannah that was a popular hangout for pirates?
•There is a fort in Savannah built with hand formed bricks?
You will find out all about these things and much more fun Savannah Georgia facts. You will love this book whether you are preparing for a vacation with the family, or simply want to learn a little more about Savannah Georgia attractions. Younger kids will love this neat way to visit Savannah through reading with their family!
This Savannah Georgia Travel guide is a great kids book to have on hand to read all about the things to do in Savannah GA including the Ghost tours!
Teresa Mills is the bestselling author of the Hey Kids! Let's Visit Series of children's books! This visit to Savannah will give older kids a virtual tour of this historic Georgia city along with some fun facts.
AFTER YOUR PURCHASE CHECK OUT OUR OTHER TITLES THAT YOU MAY LIKE:
Hey Kids! Let's Visit Washington DC
Hey Kids! Let's Visit New York City
Hey Kids! Let's Visit A Cruise Ship
Hey Kids! Let's Visit London England
Hey Kids! Let's Visit San Francisco
Hey Kids! Let's Visit Paris France
Other Books in "Hey Kids! Let's Visit"
Disclosure of Material Connection: Some of the links in the page above are "affiliate links." This means if you click on the link and purchase the item, I will receive an affiliate commission. I am disclosing this in accordance with the Federal Trade Commission's
16 CFR, Part 255
: "Guides Concerning the Use of Endorsements and Testimonials in Advertising."