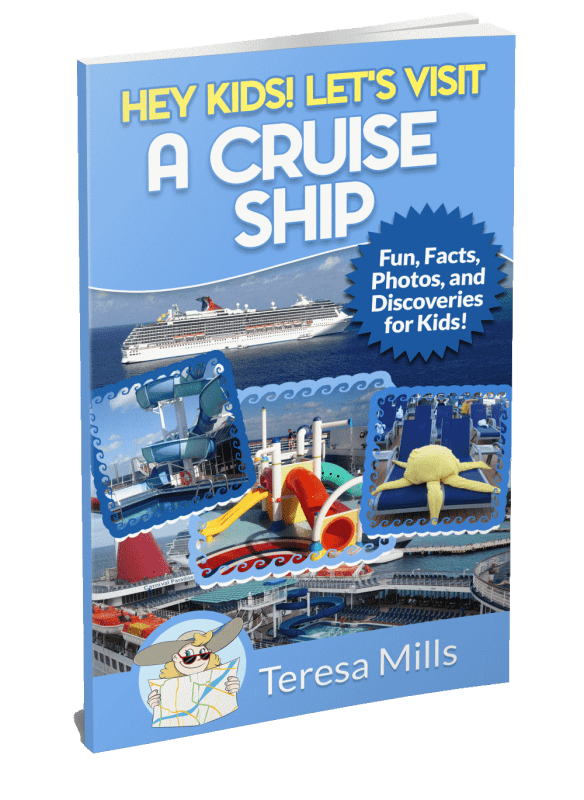 Hey Kids! Let's Visit A Cruise Ship leads kids on a virtual tour of a cruise ship. Find out what goes on behind the scenes and how the crew lives. If you are planning a family cruise vacation, take the book along to compare to the ship you are sailing on.
About the Book
Fun and Exciting Facts about a Cruise Ship – great photos!
Hey Kids! Do you know…
How a Cruise Ship Floats?
What does the Cruise Ship Captain do?
Just how big is a cruise ship actually is?
Where does the cruise ship crew live?
Where does the poop go?
How much food is served on a cruise ship?
What are the cruise ship games on board?
We will discover the answers to all of these questions as we virtually visit a cruise ship! Full of cruise ship photos, this cruise ship book for kids explores the ship's operation and all of the fun things for kids to do on a cruise ship! Join us on this cruise ship vacations tour!
Teresa Mills is the bestselling author of the Hey Kids! Let's Visit Series of children's books With this edition to the series, she brings alive the behind the scenes fun of cruise ship travel!
AFTER YOUR PURCHASE PLEASE LOOK UP OUR OTHER TITLES YOU MIGHT LIKE:
Hey Kids! Let's Visit Washington DC
Hey Kids! Let's Visit New York City
Hey Kids! Let's Visit London England
Hey Kids! Let's Visit San Francisco
Hey Kids! Let's Visit Savannah Georgia
Hey Kids! Let's Visit Paris France
Other Books in "Hey Kids! Let's Visit"
Disclosure of Material Connection: Some of the links in the page above are "affiliate links." This means if you click on the link and purchase the item, I will receive an affiliate commission. I am disclosing this in accordance with the Federal Trade Commission's
16 CFR, Part 255
: "Guides Concerning the Use of Endorsements and Testimonials in Advertising."