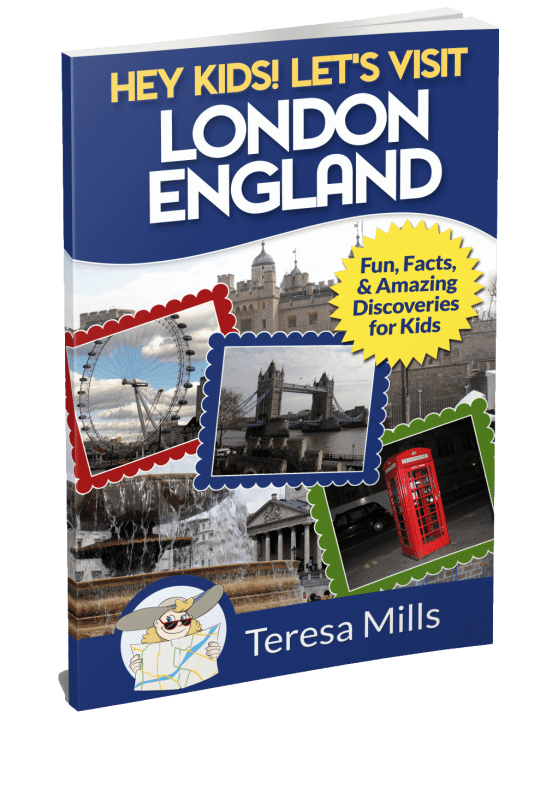 Hey Kids! Let's Visit London England leads kids on a virtual tour of some major fun things to do in London England and includes some fun and interesting facts about each one. Kids who are visiting London can use the book as a reference when touring the city, or use it to learn more about London.
About the Book
Fun and Exciting Facts about London England
Hey Kids! Did you know…
London England is one of the most visited cities in the world?
There is a trolley partially through the wall to Platform 9 3/4 at Kings Cross Station?
There is a Giant Observation Wheel in the center of the city?
There are iconic red phone booths all over London and the United Kingdom?
You can actually walk across the "Brockdale Bridge" that was destroyed by the death-eaters in 'Harry Potter and the Half-Blood Prince'?
You will discover all of these things and more as we visit London England! Full of photos and fun facts about London and London attractions (and fun side trips), this book is great whether you are preparing for a trip to London with the family, or simply want to learn a little more about this famous city.
This London England Travel Book for kids spells out the best things to do in London England for kids. Full of fun information and fun facts, this travel guide is sized just right for kids to carry along as they visit the attractions.
Teresa Mills is the bestselling author of the Hey Kids! Let's Visit Series of children's books! Be sure to check out the entire series of travel books for kids!
AFTER YOUR PURCHASE CHECK OUT OUR OTHER BOOKS THAT YOU MAY LIKE:
Hey Kids! Let's Visit Washington DC
Hey Kids! Let's Visit A Cruise Ship
Hey Kids! Let's Visit New York City
Hey Kids! Let's Visit San Francisco
Hey Kids! Let's Visit Savannah Georgia
Hey Kids! Let's Visit Paris France
Other Books in "Hey Kids! Let's Visit"
Disclosure of Material Connection: Some of the links in the page above are "affiliate links." This means if you click on the link and purchase the item, I will receive an affiliate commission. I am disclosing this in accordance with the Federal Trade Commission's
16 CFR, Part 255
: "Guides Concerning the Use of Endorsements and Testimonials in Advertising."