Mount Vernon – George Washington's House
Ask any person to name five United States presidents and you'll definitely hear the name George Washington.  George Washington's plantation home, Mt Vernon is preserved for history.  His home is located near the banks of the Potomac River. Visiting Mount Vernon with your family is a great way to learn about the first President of the United States.
Facts about Mount Vernon…..
Where is it?
George Washington's home is located in Mount Vernon, Fairfax County, Virginia. The plantation house is built in Georgian style and was founded in 1575. This historic building is now owned and being cared by the Ladies' Association.
When to Visit?
Anyone can visit Mount Vernon anytime of the year. It is open everyday, even during holiday season. When you purchase a ticket for kids there'll be an additional adventure map of for free. Tourists and visitors are always welcome in the Mansion and they can tour the many sheds and outhouses that surround the main house. The tour includes the kitchen quarters, greenhouse, and stables.  The tour includes the sleeping quarters of slaves during George Washington's time. You will be able to wander around the four gorgeous and massive gardens. You can stroll or hike around the Forest Trail and drop by the working farm which houses a replica of Washington's treading barn. George and Martha Washington's graves as well as the Slave Memorial and Burial Ground are on the tour as well.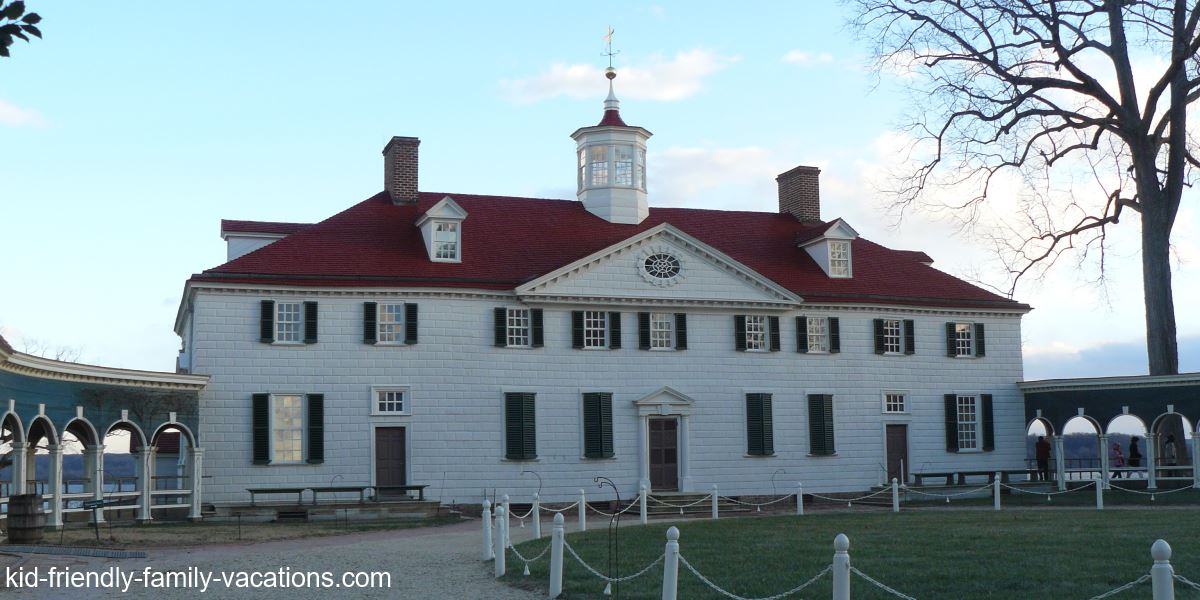 What's there to see?
The life and achievements of George Washington are displayed at the Mansion through a collection of original artifacts and videos. There are 25 theaters and galleries in the mansion to educate visitors about the Washington's and their humble plantation home.
Can I grab some food there?
The Mount Vernon Inn is known for its great lunch and dinner meals. You can enjoy a meal at the Inn on a first come first served basis except for Easter, Mother's Day and Thanksgiving which require reservations. You can also choose casual dining at The Food Court.
What about shopping?
The Shop is known for its quality and good collection of George Washington books. The Shop also markets food and wine local to Virginia. This wonderful shop also offers crafty keepsakes.