San Francisco Attractions – Top 10 Things to Do In San Francisco
San Francisco Virtual Field Trip Week 1
Free San Francisco attractions virtual field trip coloring page: Golden Gate Bridge Coloring Page
Our top San Francisco attractions picks include some of the major attractions in the city!  We chose our top 10 suggestions for a fun family vacation to share with you!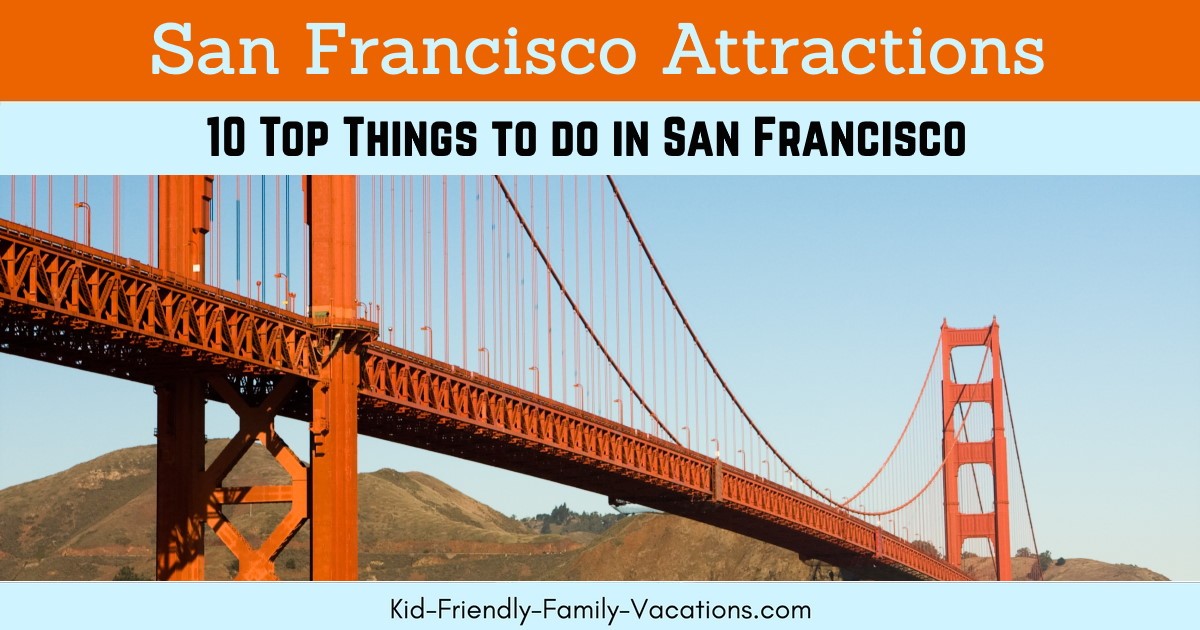 San Francisco is one of my favorite places to visit. The city is large, but it is very easy to get around. Like so many other places that you can visit, there are just so many things to do and see there.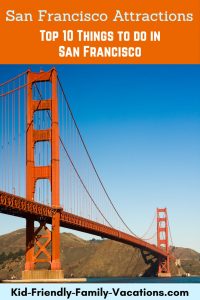 In San Francisco, you can enjoy all the sights, sounds and flavors of the city, including the world-famous cable cars. San Francisco is such a beautiful city…. And very large! The city goes on for blocks and blocks in all directions, and the beauty is amazing. It is, by far, the easiest "big city" to get around in that we have ever visited.
There are many, many things to do and see in San Francisco. You will find attractions in the downtown area that will keep you busy for hours. Then there is major league baseball (two teams!), bridges, parks, restaurants, shopping, and many fun places to explore that are just a short drive from town.
Here are out top 10 picks for things to do in San Francisco!
The Golden Gate Bridge
Okay – What is one of the first things that you think about when you think about San Francisco? What structure is shown at the beginning of any television show or movie that is set in San Francisco? You guessed it! – The Golden Gate Bridge!!
The bridge offers a majestic view of a great portion of the city and surrounding areas. It spans 4,220 feet across the Golden Gate Strait which connects the Pacific Ocean and the San Francisco Bay.
You can read more about the Golden Gate Bridge and read some fun facts on our Golden Gate Bridge Page.
San Francisco Cable Cars
The San Francisco cable car is one of the city's defining features. It is one of the first things that a person looks for in downtown San Francisco. In books, movies, newspapers and magazines, cable cars have always been among the fascinating features of the city.
The San Francisco Municipal Railway (MUNI) operates cable cars all over the city. The cable car system is owned by San Francisco's Municipal Transportation Agency. Today, it is the only remaining manually-operated system worldwide.
There are three cable car lines in San Francisco.  You can read about them and how cable cars work on our San Francisco Cable Cars Page.
And even more reviews on TripAdvisor!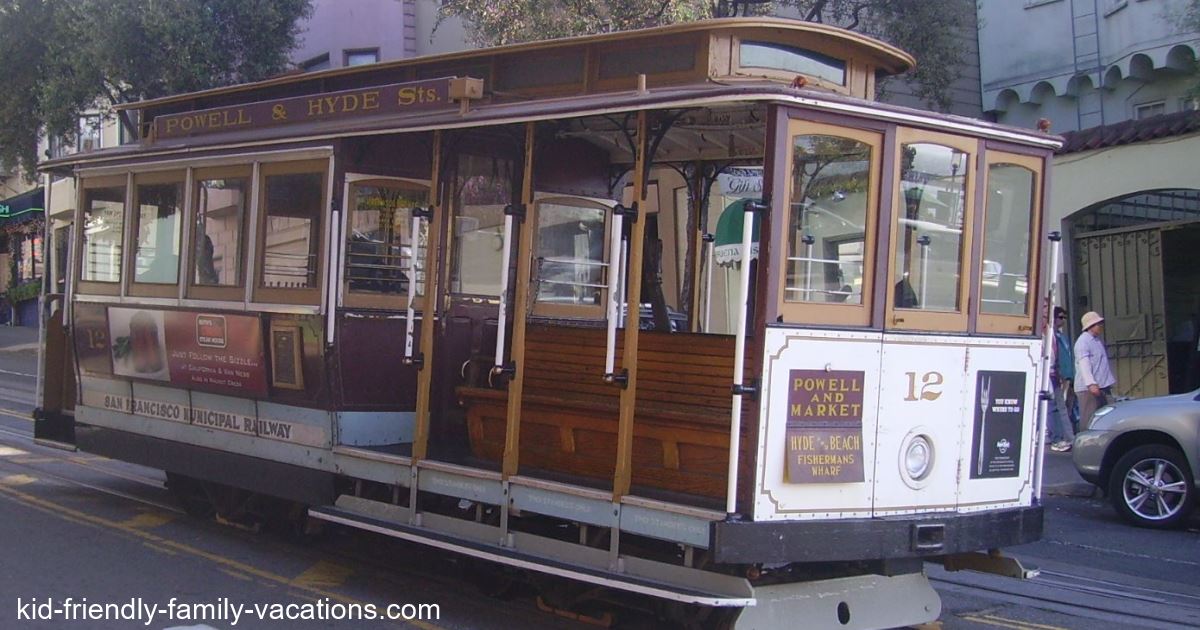 Coit Tower
The Coit Tower sits above the San Francisco skyline on Telegraph Hill. The tower is 210 feet tall, but it sits on one of the highest points in the city – close to the bay.
The tower was built in 1933 with funds from the estate of Lillie Hitchcock Coit.
Lillie Hitchcock Coit had a love for firefighting!  When firefighters would be short-handed, she'd willingly lend a hand. This selfless practice began when she was  fifteen years old, and continued most of her life.
The Coit Tower, a National Historic Site, houses an observation deck. From the tower, you'll see some of the most amazing views of key points in San Francisco.
Read more about Coit Tower on TripAdvisor!
Virtual Field Trip Week 1 Coloring Page
Free San Francisco attractions virtual field trip coloring page: Golden Gate Bridge Coloring Page
Pier 39 – One of the Top San Francisco Attractions
At Pier 39, you will find shops, an arcade, ferry boat booths, bike rental stations, restaurants, diving pools, 3D rides, street performances, sea animals, and many more attractions. Best of all, you can enjoy scenic views of the Golden Gate Bridge, the Bay Bridge, Alcatraz, and Angel Island.
Because sea lions frequent the area, Pier 39 is also known as The Sea Lion Pier. Since the first sighting in 1989 was reported, these adorable sea animals have considered the pier their home.
Learn more about Pier 39 on our page and more reviews on TripAdvisor.
Lombard Street
Lombard Street is distinctive because it has eight hairpin turns in a steep and single block. It is sometimes regarded as the most crooked street in California. Others even say that it is the most crooked street in the world.
The street is picturesque because it has lush greens and dainty flowers at every turn. The neighborhoods along Lombard Street are composed of posh Victorian mansions.
Fisherman's Wharf
There are so many things to do at Fisherman's Wharf in San Francisco, California. That is why it is one of the busiest tourist destinations in San Francisco.
You can roam around the San Francisco Maritime National Historical Park to see the Hyde Street Pier and Pier 45. You can also take a closer look at old watercraft like the 19th century cargo ship, Balclutha, and the World War II submarine, USS Pampanito.
Most visitors spend a lot of time in the museums at Fisherman's Wharf. Fun museums like Madame Tussauds Wax Museum, Ripley's Believe It or Not Museum, and the Musée Mécanique, which has over 300 hundred mechanical games like penny arcades, music boxes, and love testers.
Ghirardelli Square
One of the top attractions at Fisherman's Wharf in San Francisco, California is the Ghirardelli Square. It is a historic public square that has various restaurants and shops.
Tourists like the classic feel of the Ghirardelli Square because it is more than 100 years old. The structure of the commercial complex dates back to 1893.
The Ghirardelli Soda Fountain is a highlight – take a look!
China Town
The neighborhood of Chinatown in Central San Francisco has the largest Chinese community outside of Asia. It is home to more than 100,000 residents.
The Dragon Gate or Gateway Arch is the entrance to this vibrant neighborhood that is rich in culture and traditions. It is the oldest Chinatown in California and the rest of North America.
It was established in 1848 by immigrants from Guangdong Province in southern China. In the 1960s, a huge number of Hong Kong immigrants came in.
Most of the Chinatown residents can only speak Chinese, whether Cantonese or Mandarin. Less than twenty percent of the Chinatown population can speak fluent English.
Alcatraz
Alcatraz Island in San Francisco Bay is among the top tourist spots in California. It is a small island that is 1.25 miles away from San Francisco.
The Alcatraz has a prison, military reinforcement, and lighthouse. These facilities, however, have long been abandoned. They just serve as reminders of the past.
The U.S. Army and Bureau of Prisons built the Alcatraz structures in 1847 and designed them with a Spanish Revival style. The Alcatraz is part of the U.S. National Register of Historic Places.
San Francisco Zoo
The San Francisco Zoo is a different type of zoo. It does not just have animals that are in cages. Some of its animals can roam around freely in exhibit areas.
The San Francisco Zoo is a vast space covering 100 acres of land. It has more than 1,000 animals from over 250 species.
It was opened in 1929 along the Great Highway, which is between the Pacific Ocean and Lake Merced. Its first animals were a cape buffalo, two spider monkeys, two zebras, three elephants, and five rhesus monkeys.
San Francisco Virtual Field Trip
Week 1 – San Francisco Attractions – Top 10 Things to Do In San Francisco
Week 2 – Cable Cars – A Fun and Iconic Piece of San Francisco History
Week 3 – Pier 39 San Francisco – Fun and History on the San Francisco Bay
Week 4 – San Francisco Side Trips – Three Fun Things To Do Close By
For all future updates on Virtual Field Trips, join our update mailing list using the box below, or by clicking the link here.