Washington DC Zoo – The National Zoo of the United States
The Washington DC Zoo is one of the Smithsonian Museums.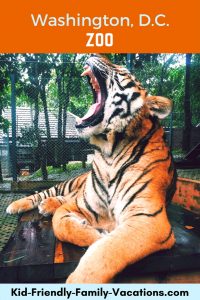 One of our family vacations to Washington DC included a trip to the zoo.  We visited on a blustery, cool day, but the visit was absolutely one of the best times that we spent in Washington DC. We were pretty glad that it was not real hot on the day that we visited because there is a lot of walking involved.
The Zoo in Washington is one of the best around and one of only four zoos in the US that have pandas. The panda exhibit at the zoo is called the "Great Panda Habitat"!
The gorillas in the "Great Ape House" are very personable as well. The gorillas, like the one in the picture, like to watch the visitors to the zoo and sometimes make fun of them. It is pretty fun to watch.
There are orangutans as well in the Great Ape House. The orangutans are allowed cross over to the "Think Tank" freely. They travel back and forth on cables above the ground.
What's the Think Tank at a zoo, you ask?
The Think Tank is an area designed to educate visitors about how animals think and learn about their surroundings. It has several interactive displays that teach visitors how zoologists conduct their studies.
Since the National Zoo is part of the Smithsonian Institution, there is no admission charge…. an extra special bonus for family vacations.  From the Woodley Park-Zoo/Adams Morgan metro stop, it was about a 15 minute walk to the zoo entrance.  We were mesmerized by the completely natural setting of the park as soon as we entered.  We walked through the park in about an hour and a half.  Had it been a little warmer, we probably would have stayed a little longer.
The walk from the metro stop is not too bad…. about 4 blocks.
Washington DC Zoo Reviews
Washington DC Zoo Favorites
The Pandas
The Apes – the female had quite a personality….
Just walking and talking and enjoying our family vacations stop at the Zoo.
Information
Washington DC Zoo
Address:
3001 Connecticut Ave. NW
Washington, DC 20008
Phone:  202-633-1000
Metro Stop: Woodley Park-Zoo/Adams Morgan
There is no charge to visit any of the Smithsonian Museums.  The Museums open at 10:00 AM daily.
Visit the Zoo web site for more information.