Washington Monument – Some History and Some Facts
The Washington Monument was built in honor of the first president of the United States of America, George Washington.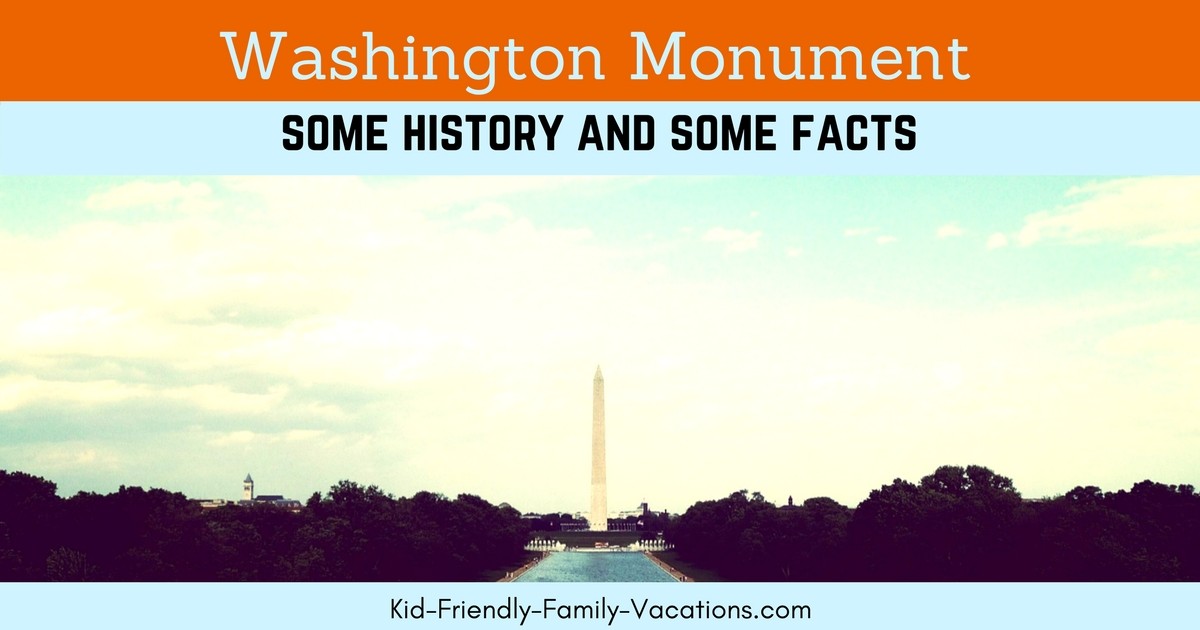 The tour is free, but does require a ticket.  Be sure to go early in the morning to pick up the free tickets… then return for your tour time.
History of the Washington Monument
The monument was built in two phases. The first phase was from 1848 to 1858. It was only built to 152 feet during this phase. The second phase was from 1878 to 1888. That's a gap of twenty years in which the monument sat unfinished.
Some Fun Facts
It is the world's largest obelisk.
The elevator ride to the top of the monument takes 70 seconds.
The elevator ride back to the bottom takes 2 minutes because it stops along the way to show riders some of the interior of the monument.
Visiting the Washington Monument
The View
The monument is 555′ 5/8″ tall, and in clear weather visibility is 30 – 40 miles.  The views of Washington DC and the National Mall from the monument are wonderful.
On a clear day, the view from the top of the monument is awesome.   Go early because from the top, you can see all of the other things that you want to visit.
Reviews
Washington Monument Tips
Be sure to get to the monument early on the day that you plan to tour it.  Free tickets are available starting at 8:30 AM each day and are available on a first come first served basis.
Spend as much time as possible in the viewing area at the top of the monument.  Use this time to give a short history lesson to your children.
Make sure that you look closely at the monument to see the color differentiation between the two phases of construction.
Information
Washington Monument
Address:
15th St. & Constitution Ave. NW
Washington DC 20001
Phone:  202-426-6841 or 800-967-2283
Metro Stop: Smithsonian
There is no charge to visit the Washington Monument.  The Monument is open daily from 9:00 AM to 5:00 PM, except for July 4 and December 25.
Visit the Monument web site for more information.