History abounds all over Charleston SC – the tour of this fort is awesome…
The tour of the fort, and the harbor cruise are excellent family vacation choices.  Our kids enjoyed the boat shuttle to Fort Sumter and the tour itself.  The commercial boat transportation leaves from two locations in Charleston…. Liberty Square in downtown Charleston or from the Patriots Point Museum in Mt. Pleasant.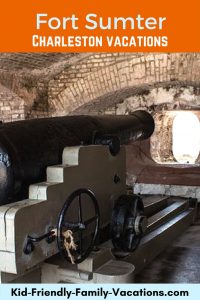 The time spent at the fort is self-guided, but there are national park rangers available for questions.  The tour includes a lot of history about the significance of the Fort in the War between the States.
This is another great Charleston SC vacation stop to soak up the civil war history that is such a big part of the South.  The kids loved seeing the cannons, and the sleeping quarters of the fort…. of course, my kids can only take so much "history"…. so we have to temper the history trips with a lot of beach time.
Tours are handled by Spirit Line Cruises, and depart from Liberty Square at the Aquarium Wharf, or from Patriot's Point in Mt. Pleasant.  Spirit Lines offers the only commercial boat transportation to Fort Sumter, the island fort where the Civil War began. The 2 hour 15 minute tour consists of approximately 1 hour at Fort Sumter, then a 1 hour and 15 minute cruise around Charleston's historic harbor.   The tours run daily except for Thanksgiving Day, Christmas Day, and New Years Day.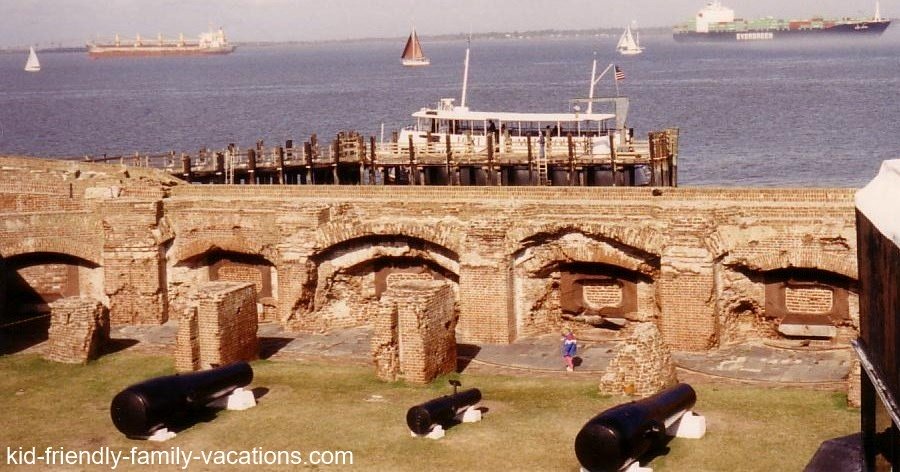 Reviews
Inormation
Fort Sumter South Carolina
Address: 1214 Middle St.
Sullivan's Island, 29482  
Phone:  843-883-3123
Visit the Fort  web site for more information.