Charleston Vacations – History Wraps Up Great Family Vacations
Charleston South Carolina Virtual Field Trip Week 1
Free Charleston Vacations Virtual Field Trip coloring page: The Battery
On Charleston Vacations, you will find history abounding, fun and clean beaches, and kid friendly fun for the whole family….
Charleston is one of my favorite family vacation destinations.  There are beaches, museums, parks, plantations and gardens,  a rich civil war history,  naval maritime history, and a  historical district that exceed expectations. All this with a range of tours available including horse drawn carriage, bus, and walking tours.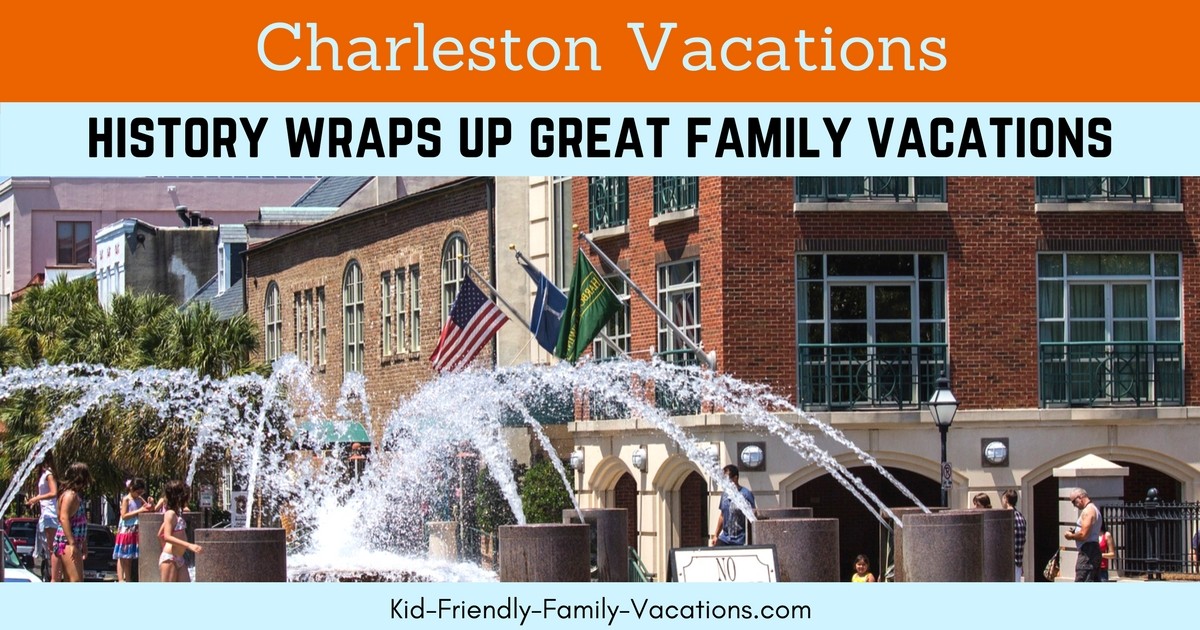 Our family vacations have taken us to Charleston many times.  David and I have been to Charleston on our own several times and we have taken the children as well. Each time, the trip has been great and relaxing. And, on a personal note, I lived in Charleston for 5 years (between the ages of 8 and 13)… so it was nice to go back to visit the old stomping grounds.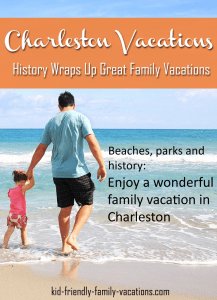 In Charleston, there are many choices of places to stay – the Isle of Palms, Folly Beach, in the Historic Downtown area, and on Mount Pleasant close to Patriots Point.  There are beaches, the downtown historic area, walking on the battery, touring Fort Sumter, and visiting plantations, and gardens… Charleston vacations are never boring.
While in Charleston, be sure to spend some time in the downtown area.  There are numerous walking tours that show off some of the local charm.  All along the Battery, are historic homes that date back to the 1600s. The southern charm and aristocratic wealth are still evident today.
Charleston is known for being the Holy City because of its churches. These churches add to the city's charm, and the fact that it's considered "holy" makes ghost tours more interesting (if that's your thing).
This page will give you a great overview of some favorite Charleston Things to do…
Charleston Vacations Start at the Visitor Center
The Charleston Visitor Center is the place to go to find out about the variety of tours and activities that are available throughout Charleston. Their friendly staff members are well informed and trained in assisting visitors. They can also help you in planning tours and activities based on what you and your family want to see and do.
The center has a theater that shows a short film about the history and culture of Charleston. A thirty-six-minute film titled Forever Charleston airs also every forty-five minutes. The film features places around Charleston and some significant historical facts about the city.
Charleston Battery and White Point Gardens
Battery Park (or White Point Gardens) in Charleston SC is one of my favorite places to visit when we make it there… The park provides a great setting for simply relaxing after a day of site-seeing, or maybe climbing on the cannons….
The Battery is a landmark promenade and defensive seawall that stretches along the Charleston peninsula's lower shores, bordered by the Cooper and Ashley rivers. The White Points Gardens is a 2.3-hectare (5.7-acre) public park located within the Battery.
The peaceful park and promenade offers great views of Fort Sumter and the Charleston Harbor. Look back across the street and you will see some elegant Charleston mansions. Gigantic oak trees provide shade at White Point Gardens where kids can play on the Civil War–era cannons and weapons displayed there.
You will find more reviews of the Battery and White Point Gardens on TripAdvisor.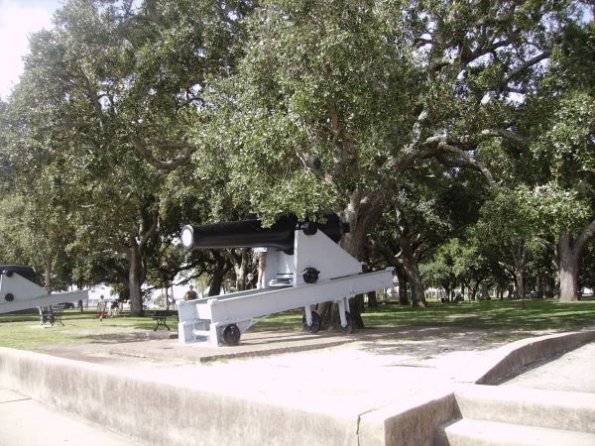 Fort Sumter – Charleston Harbor
Fort Sumter is a short ferry ride from the downtown Charleston Harbor. The ride offers a great view of the Harbor as well as Battery Park and the surrounding area. The Fort itself is steeped in history – offering a self-guided tour to one of the earliest forts in the USA.
Fort Sumter off the coast of Charleston is where the US Civil War started.
You will find more reviews of Fort Sumter on TripAdvisor.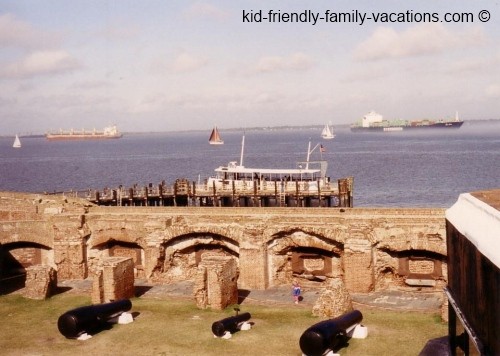 Charleston Riley Waterfront Park
As former Charleston mayor Joseph P. Riley Jr. says, the Waterfront Park in the city's downtown area is like an outdoor cathedral surrounded by stars and sky, water and trees, and the downtown Charleston skyline. The park is attributed to the former mayor.
Completed in May 1990, the park measures thirteen acres. It provides visitors and residents alike a public sanctuary where they can sit and relax, and enjoy views of the Cooper River. Here, kids can play in  the interactive water-and-spray fountains. Visitors can also stroll along the waterfront promenade  under mature oak trees.
You will find more reviews of Riley Waterfront Park on TripAdvisor.
The Charleston City Market and Confederate Museum
The historic Charleston City Market was constructed on land ceded in 1788 by Charles Cotesworth Pinckney—a Revolutionary War veteran—to the city of Charleston.
A condition on ceding the land was that it be utilized always as a public market. Now, the market is home to unique, small shops selling local goods like artwork, sweetgrass baskets, woven baskets, jewelry,  vegetables, and fruits.
The Confederate Museum is on the top floor of the City Market. The museum is open for visitors all year round, Tuesdays to Saturdays, from 11:00 a.m. to 3:30 p.m.
You will find more reviews of the Charleston City Market on TripAdvisor.
Virtual Field Trip Week 1 Free Coloring Page
Free Charleston Vacations Virtual Field Trip coloring page: The Battery
Charleston Old Slave Market Museum
The Old Slave Mart Museum, formerly a building in the complex of buildings called Ryan's Mart, may be the only surviving building once used for slave auctions in the South. Slave auction activities in this building ended in 1863. The museum is located at 6 Chalmers Street.
This slave-trade building was constructed in 1859. To its west, the building was supported by the German Fire Hall walls. Inside was a large room that had a ceiling twenty feet high. The front of the building featured an iron gate, octagonal pillars, and an arch.
Charleston Dock Street Theater
Dock Street Theater is located at 135 Church Street in Charleston's French Quarter neighborhood. It is  the first building in the United States that was designed to be used exclusively as a theater.
It is a working theater and caters to around fifty thousand patrons!
Charleston Rainbow Row
One of the most photographed landmarks in Charleston is the Rainbow Row.
Rainbow Row is a row of Georgian houses painted in the colors of the rainbow. There are thirteen houses in total, and the row is located on Tradd Street, Elliot Street, and East Bay Street. The houses faced the Cooper River in 1740. However, that location was subsequently destroyed during the Civil War.
You will find more reviews of Rainbow Row on TripAdvisor.
Children's Museum of the Lowcountry
Children's Museum of the Lowcountry, or CML, is an interactive learning museum for kids age ten and younger. CML is a nonprofit organization that allows children to play while learning. Located at 25 Ann Street, Children's Museum of the Lowcountry offers tons of activities that the whole family can enjoy.
One of the most unique and interesting features of the CML is the Art Room, which offers four different areas with tons of fun activities. First is the Creation Station where children can try problem solving and spatial awareness through creating art by using recyclable materials. The Painting Place is also a cool  feature in the Art Room where your children can paint and learn how to interpret their work. The  Discovery Den, on the other hand, focuses on new art forms, such as collage, weaving, and sculpting, that encourage your child to try new things to stimulate their imaginations. The Art Room also caters to very young children in the Sensory Space, an area where their speech and color recognition is enhanced through various activities.
You can read more about the Children's Museum at TripAdvisor.
South Carolina Aquarium – Charleston Vacations Fun
The South Carolina Aquarium is a great place to explore South Carolina's native plants and animals. It is a 93,000-square-foot infrastructure with different exhibits. You will find a bunch of exhibits from forestry to swamp grounds, as well as a huge aquarium with hundreds of animals and aquatic creatures.
The South Carolina Aquarium features a three story aquarium. This aquarium contains more than seven hundred sea creatures.
Read more about the South Carolina Aquarium at TripAdvisor.
Patriots Point Naval & Maritime Museum
Patriots Point is located just across the Cooper River bridge from downtown Charleston in Mount Pleasant.  The museum is a living museum housing several Naval ships and a sub-marine.  The aircraft carrier Yorktown is like a super floating city.  All are open for touring…
Patriots Point Naval & Maritime Museum is a collection of four ships and twenty-five aircraft carriers.  The 888-foot aircraft carrier Yorktown is the flagship of the battle group. Destroyer Laffey, the Coast Guard cutter Ingham, and the submarine Clamagore are also on display along with the aircraft that are displayed on the Yorktown.
You can find even more information about Patriots Point on TripAdvisor.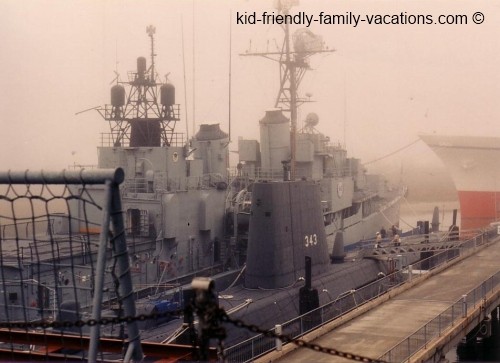 Charleston Vacations Beaches
With Charleston being a coastal community, there are several beaches very close by… We have always enjoyed the Isle of Palms (pictured below) and Sullivan's Island…. both are home to houses for rent, and there is hardly any commercialization….really nice for quiet evenings… Folly Beach has more attractions for younger children – more restaurants  – more hotels…. either way, you can't go wrong with the beaches around Charleston.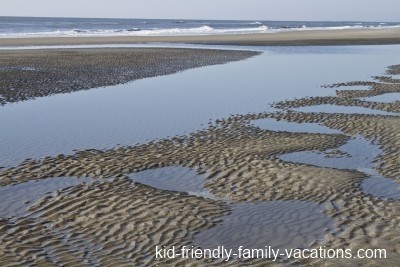 Visit TripAdvisor for some Great Charleston SC Deals!
Charleston South Carolina Virtual Field Trip
Week 1 – Charleston Vacations – An Overview / Quick Look
Week 2 – Downtown Charleston – 10 Pieces of History Not To Be Missed
Week 3 – Fort Sumter National Monument
Week 4 – Patriots Point Naval & Maritime Museum
For all future updates on Virtual Field Trips, join our update mailing list using the box below, or by clicking the link here.