Ghost Tours Savannah are offered by several tour companies.  Some of the tours are walking tours, some are trolley tours.  there are tours that incorporate visits to local pubs, there are tours that include dinner, there are tours that visit inside some of the local "haunts".  So, you and your family have a variety of venues to choose from.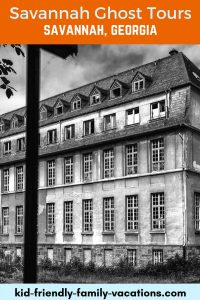 The night was mild during our spring visit, so our Ghost Tour was a walking tour. I will give information about all of the Ghost Tours available in Savannah, and will go more in depth about the tour that we chose.
We chose The Original Ghost Talk Ghost Walk Savannah Walking Tour.  The tour departs from the John Wesley monument in Reynold's Square on Abercorn Street.  The Ghost Talk Ghost Talk tour is based on the stories in Margaret DeBolt's book Savannah Spectres and Other Strange Tales. The tour offered a fun approach to the legends that lie beneath the haunting tales of Savannah.  Now, I do have to let you know that I am very skeptical and DO NOT BELIEVE IN GHOSTS, but the tales were entertaining and the tour added to the rich history that we enjoyed on the City of Savannah Tour that we took earlier in the day.
I also have lived in Charleston SC for a time in my life, and have heard tales from people there about hauntings in Charleston… so who knows.  The tour tour was informative and entertaining none the less.  The tour guides with The Ghost Talk Ghost Walk Tour were very informed.  They were ready and willing to answer any questions that we had.
Information on Ghost Tours Savannah
Ghost Tours Companies
Savannah Belle Walking Tours – Saavannah's only Family Friendly Ghost Walk!
Address: Wright Square (tours depart each evening at 6:00PM)
Phone:  (912) 655-9896
Visit the Savannah Belle Tours web site for more information.
---
Ghost Talk Ghost Walk Savannah Walking Tour
Address: P. O. Box 14519
Savannah, GA 31416
Phone:  (912) 233-3896 or 1-800-563-3896
Visit the Ghost Talk Ghost Walk web site for more information.
---
Savannah Walks Ghost Tour
Address:  Johnson Square
Phone:  (912) 233-WALK
Visit the Savannah Walks web site for more information.
---
<strong">Old Towne Trolley's Ghosts and Gravestones
Address:  Simply Savannah Trolley Depot
301 River Street
Phone:  (912) 233-0083
Visit the Ghosts and Gravestones web site for more information.