Things to do in Rome Italy – History and Fun in the Eternal City
There are a lot of things to do in Rome Italy. If your kids are old enough to appreciate history, architecture and old world charm they will love it.  Rome is a great city known for its preserved Roman Architecture and historic places. Let's Visit the Eternal City.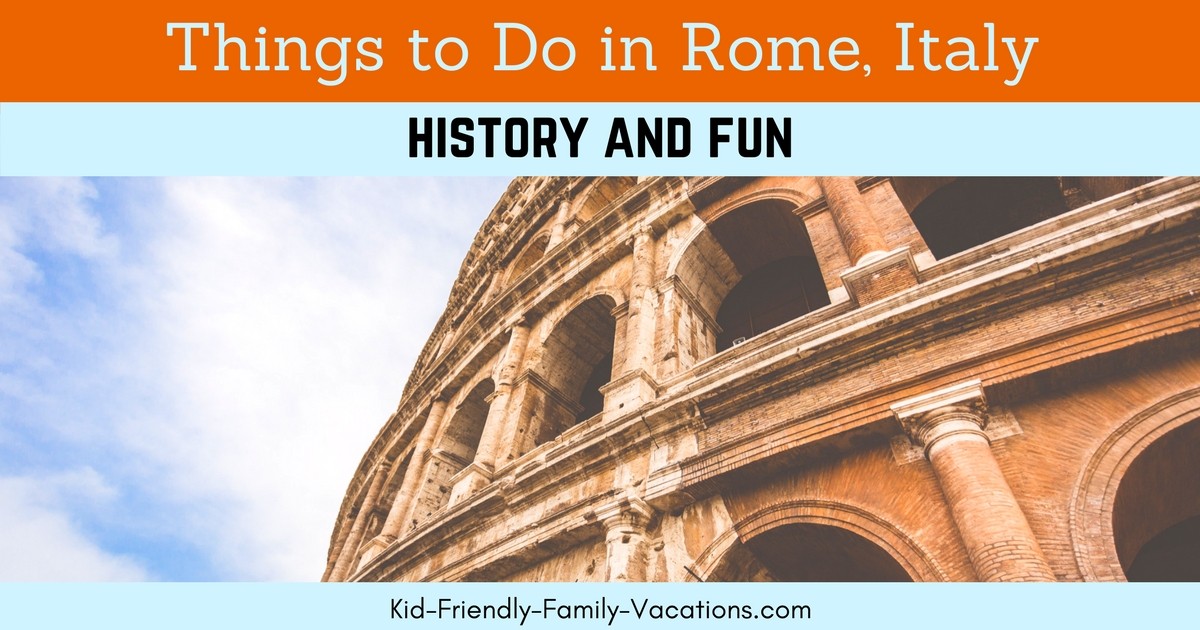 Rome,  despite its sophistication is actually a kid-friendly city. There are a lot of things that you and your kids can do together. You can explore it on foot or you can use the public transportation to take you to places that you want to see.  You can take your kids to visit the Colosseum, the Villa Borghese Garden and some other places. And don't forget to include gelato and pizza!
There are a lot of kid-friendly hotels and small restaurants in Rome. There are even popular fast-food restaurants if you really want to visit those while there.
One of the best things to do in Rome Italy is the Colosseum. Kids will definitely be awed with the size of the place as well as its history. Its fun to try to re-create its look before it fell into ruins. There are always many touristy things going on around the Colosseum… for instance, check out my grand photo….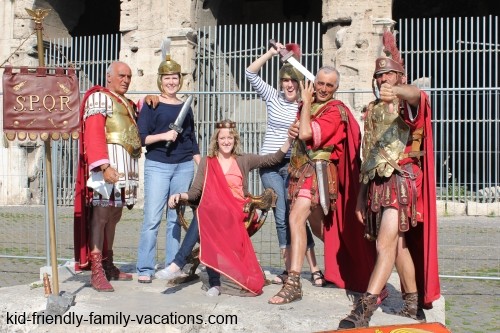 If a visit to the Colosseum is in your plans, you might want to take a look at the Gladiator School…. You get a two-hour lesson on how to be a gladiator – a really cool hands-on history lesson!
There are childrens museums in Rome that you and the kids can explore together. One of these museums is the Explora. The exhibits may be written in Italian but no worries since the museum's staff knows how to speak English very well. Exposing your kids to the Italian language will also help them appreciate another foreign language. You can also take your kids to the Trevi fountain and let them throw a coin to "assure" that they will be able to visit Rome again someday.
Another must do in Rome for family vacationers is the Bocca della Verita. It means the mouth of Truth in English. Children will enjoy visiting this place since they get to experience to put their hands in the mouth of the Bocca. Legend has it that the hand of a liar is cut off by the Bocca.
Here is how we spent our vacation and some other tips for you….
Things to do in Rome Italy –  Attractions
Our 2 days in Rome were packed!!! The highlights of our time there included these fun attractions…..
We visited these fun and historical places….
How to get there and get around once there
Rome has an International airport which services a wide area.  My girls and I flew out of Rome to return home…. but, since Rome was at the end of our European Journey, we arrived in Rome via train.  The Rome Termini Stations train station is ultra modern, and heavily used.  And… as an added bonus, train travel in Europe is inexpensive!
Where to stay
We spent our 2 nights in Rome at the Hotel Gea.  The Gea is a couple of blocks from the Rome Termini Station… an easy walk with our bags… and our bags were BIG!!!
Other reviews
Here is  a list of attractions in Rome ranked and reviewed by others on TripAdvisor…. read more.
Kid Friendly Tours
Tell us about your Visit to Rome
We would love to hear your thoughts and comments on your Rome Vacations…. Join the conversation in the comments below….
A vacation in Rome is indeed an unforgettable experience…. take a look here to see how we planned this European Vacation!