Name that State : Fun and Educational Travel Games to play in the Car
Name that State – a fun travel game
Name that State is a great educational guessing games. It is easily tailored to the age of the kids just by modifying the level of the questions that you ask.
Playing games in the car while traveling is just one other way that you can help make travel more fun and also educational!  We use this game to help kids learn their States and to spur the conversation to more places that we might want to visit one day!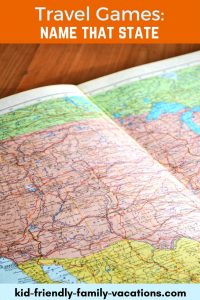 How to play Name that State
To begin this game, one person thinks of a US State. Depending on your children's ages, it might be a state that you live in, or one that is close by, or that a family member lives in.
The one who thinks of the state now begins stating facts about the state.. For instance…..
The state flower of this state is….._________
The capitol of this state is…. _________
This state is bordered by….. __________
This state is famous for… __________
This state is in the North
This state is in the South
The play continue until the state is guessed.
Variations
Take the game to a new level by learning more about geography, and using those questions in your game.
Instead of states, choose World Geography….