Top Things To Do In Charleston For Kids
By: Kristine Wilcox, Charleston local and mother of two
South Carolina is home to one of the most stunning, charming and historically quaint cities in the country… Charleston. No wonder so many people want to make it a top travel destination on their lifetime itineraries. Some go so far as to make it their new home.
The biggest questions my friends and family ask me when they come to visit are "what are the best things to do in Charleston?" and "what is there to do in Charleston with kids?
Charleston is sometimes mistakenly thought of as a place for the sophisticated grown up. Looking at the overall attractions available can give the impression that there is not a lot to offer in Charleston for kids. Nothing could be further from the truth.
Remember, children are like sponges and Charleston is rich and alive with history. The flare that goes along with it makes Charleston one of the best places for children to dive in, touch, see, smell and just plain absorb a part of American history. There's no better teacher than hands on experience, which is just what Charleston provides!
So what are the best things to do in Charleston for Kids?
At a glance, here is a list of the top five in Historic Downtown (as voted on by other parents)…
SC Aquarium
Children's Museum
Waterfront Park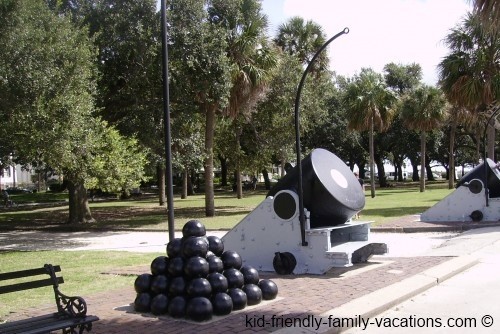 … but it doesn't stop there.
All in the Family Day Trip to Charleston SC
(Things to do with Kids!)
Only have a day to do Charleston? Here is a suggested itinerary that you can curtail to your needs:
Breakfast Options
Saffron's
Diane's Restaurant
Morning Activity Options (9:00am – 11:30am)
SC Aquarium
Tour of Fort Sumter National Monument
Lunch Options (12:00pm – 1:30pm)
Bubba Gumps
Noisy Oyster
Charleston Crab House
East Bat Crab Shack
Afternoon Options (2:00pm – 4:00pm)
Carriage Ride
Children's Museum
Pre-Dinner Options (4:30pm – 5:30pm)
Stroll the Old City Market
Run and play at White Point Gardens at Battery Park (there is a "Play-In" water fountain so be prepared)
Dinner Options (6:00pm – 7:30pm)
Southend Brewery
T-bonz
Sticky Fingers
Hanks
Night-time Options
Ben & Jerry's at 96 N. Market St.
Charleston's Candy Kitchen at 32 N. Market St.
Swings at Waterfront Park
Charleston is sure to be a destination your kids will remember. Climbing on old war canons, petting stingrays and horseshoe crabs, splashing through a town-centered water fountain and indulging in a big candy shop are sure to leave them talking about their experience for quite some time!
About Me:
Kristine has an international sales & marketing background in hospitality and tourism that started locally in Charleston. She is also a dance educator and Artistic Director with accolades in teaching and choreography. She now stays home with her two children while providing information to Charleston locals and tourists through her website – https://www.things-to-do-in-charleston.com/